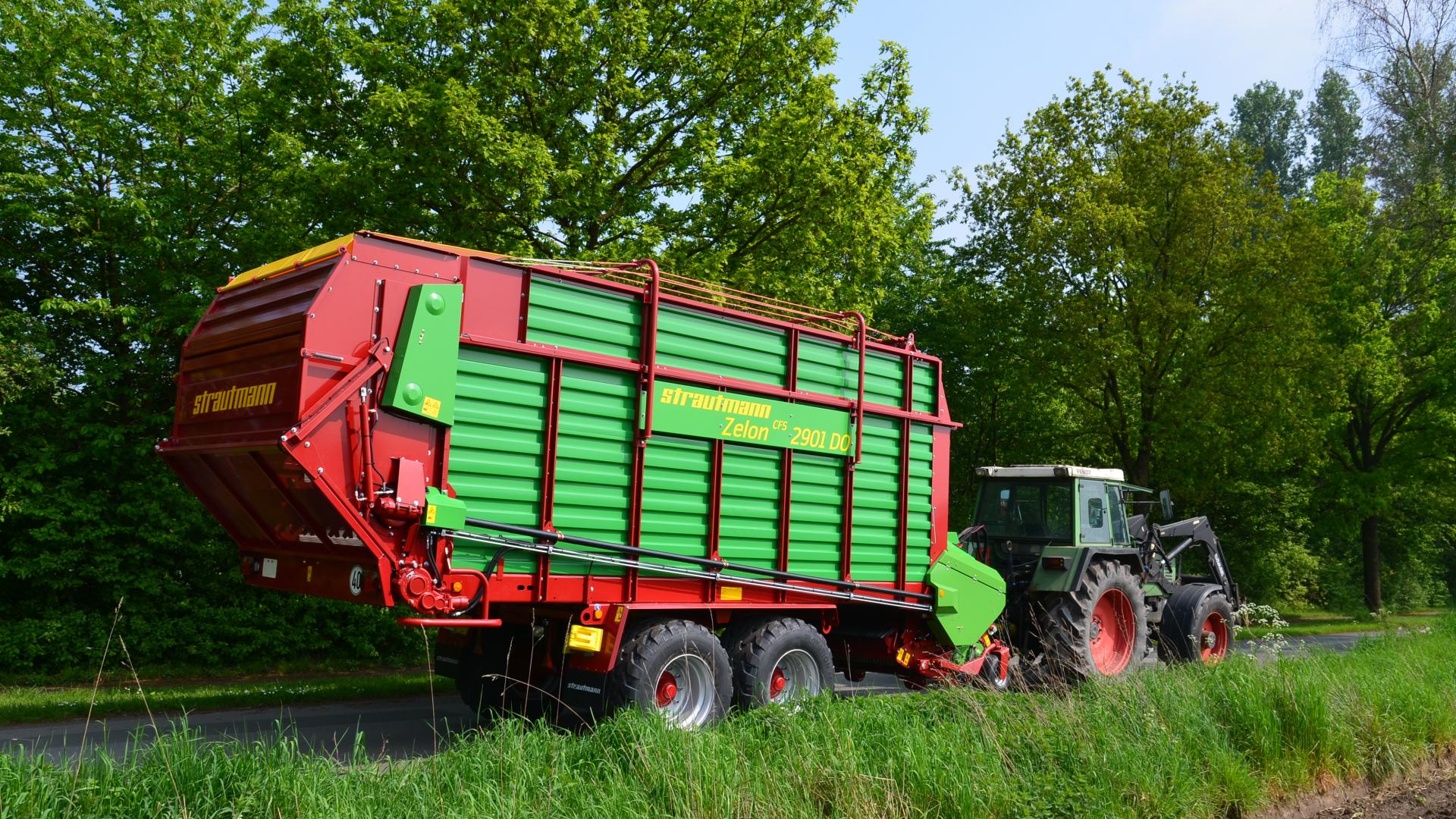 ZelonCFS - efficiency already from 23 m³!
This entry-level model is perfectly suitable for dairy farms with own machinery or machinery cooperatives.
ZelonCFS 2501 - 3301
loading capacity 23 – 31 m³ (according to DIN 11741)
Low power required
Quicker charging
CFS - Continuous Flow System
- the system for fast and efficient charging
Due to the interaction of different components, the CFS unit ensures a high charging cutting unit are perfectly matched and complement each other in ideal manner. This results in an excellent silage quality and also in easy towing and thus savings in power, money and time. Technical modifications reserved performance with low power required. Pick-up, CFS roller, rotor and Double-Cut.
Rotor and cutting unit
- For optimum fodder quality
Feeder rotor with 5 tine rows
Helically arranged
Consistent torque without peaks
Body
Solid body
Slip-proof transport floor
Easy access
Optimum filling degree
Clever dosing
Chassis
Spring-loaded boogie tandem chassis
Boogie tandem chassis
40 km/h
Easy travelling over the silo
Passive steering axle
Option
Excessive friction of the wheels on the ground is prevented
Operation
Several operating options enable an adapted and easy operation of the Giga-Vitesse CFS
Electrohydraulic comfort control
Field Operator 120
Field Operator 130
ISOBUS-Terminals
Technical data

Model
 
Zelon CFS 2501 (without beaters / with
beaters tyres 500/50-17)
Zelon CFS 2901 (without beaters / with
beaters tyres 500/50-17)
Zelon CFS 3301 (without beaters / with
beaters tyres 500/55-20)

Dimensions

 
Length
m
7,85 / 8,45

8,65 / 9,29

9,15 / 9,91
Outside wheel width chassis 10t, tyres 500/50-17
m
2,40
2,40

-

Outside wheel width chassis 13t, tyres 620/40 R 22,5
m
2,57
2,57
2,57
Outside wheel width chassis 16t, tyres 710/40 R 22,5
m
-
2,81
2,81
Height with silage extension chassis 10t, tyres 500/50-17
m
3,58
3,58
-
Height with silage extension chassis 13t, tyres 620/40 R 22,5
m
3,78
3,78
3,78
Height with silage extension chassis 16t, tyres 710/40 R 22,5
m
-
3,88
3,88
Verringerung Höhe mit Scherengitteraufbau aufgeklappt
m
-0,17
-0,17
-0,17
Verringerung Höhe mit Scherengitteraufbau abgeklappt
m
-0,60
-0,60
-0,60
Cargo space dimensions
 
Heigth
m
2,35
2,35
2,35
Width
m
2,10
2,10
2,10
Length
m
5,04
5,84
6,64
Dead weight, standard equipment
kg
5650 / 6250
5950 / 6550
6450 / 7100
Gross vehicle weight rating
 
Gross vehicle weight rating standard equipment
kg
12000
12000
12000
Gross vehicle weight rating option
kg
15000
18000
18000
Power required from
KW/PS
70 / 95
77 / 105
88 / 120
Loading capacity, medium compression
m³
39,1
45,9
52,7
Loading capacity according to DIN 11741
m³
23,0
27,0
31,0
Additional data
 
Conveying unit type
 
Rotor
Rotor
Rotor
Picking-up width of pick-up
m
1,70
1,70
1,70
Number of knives
Stück
32
32
32
Theoretical cutting length
mm
44
44
44